MedM Welcomes Vishnu Saxena in Advisory Board
23 March, 2016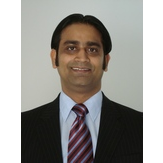 MedM is pleased to announce that Mr. Vishnu Saxena is joining the company's Advisory Board effective today. Mr. Saxena brings wealth of experience in Healthcare IT and we are extremely optimistic about leveraging Mr Saxena's experience, skills, and knowledge and looking forward to years of collaboration.
About Mr.Saxena:
Mr. Saxena is an accomplished Business leader and a recognized advisor and mentor in Healthcare IT Industry.
Over the last 16 years of his professional career, Mr. Saxena has played various leadership roles and successfully built Tech Startups, Industry leaders and Healthcare Business Practices across United States and Asia Pacific countries.
Presently, Mr. Saxena is a Managing Director of a Digital Health startup "tEMed" based out of New Jersey. tEMed transforms the way medicine is practiced currently and consultation is delivered. In the new world of healthcare consumerization, tEMed provides patients with chronic and complicated conditions such as Spine, Cancer and Heart issues, a quicker and convenient way to receive a highly engaging care by Elite Doctors in the virtual clinic settings.
Prior to tEMed, Mr. Saxena was Vice President with Diaspark &emdash; a CMMi level 5 IT Services company and Business Head of Healthcare and Life Sciences business unit- Diaspark Healthcare. Mr. Saxena founded Diaspark Healthcare three years ago as a Health Innovation Engineering services provider and led the strategic transformation of Diaspark into Healthcare and Life Sciences vertical.
In Diaspark Healthcare, Mr. Saxena, successfully, acquired, led and delivered multiple Digital health Solutions for Healthcare technology companies, Pharmaceuticals and Providers across areas such as: Patient Engagement, Medication Adherence, Telehealth, Practice Management, Remote Patient monitoring, Home Health, EMR, Population Health, Interoperability and mobile Health.
Prior to Diaspark, Mr. Saxena worked with industry leaders- Hewlett-Packard, Wipro, HCL Technologies and an Australian startup in Business management, Management Consulting, Sales and BD roles.
Mr. Saxena is also an active advisory board member to:
Canadian Technology Accelerator for Health IT: CTA Health IT is an accelerator program based in Philadelphia for high potential Canadian Health IT and Life Sciences companies run by Canadian Consulate in NY.
New Jersey Innovation Institute's Health IT Connections program: An initiative run by NJII ( an NJIT enterprise) and funded by JP Morgan foundation to promote Digital Heath Collaboration and accelerate Business Growth.