Soft Hub for Unattended Health Data Collection
Gadgets running MedM Hub Middleware can be used to acquire data directly from patients' homes or within various care facilities. A hub can simultaneously receive data from 4-8 medical devices within a 10-meter range, and an unlimited number of pairings can be achieved alternately. For instance, a nurse may carry a tablet running MedM Hub application from room to room and automatically collect readings from patients.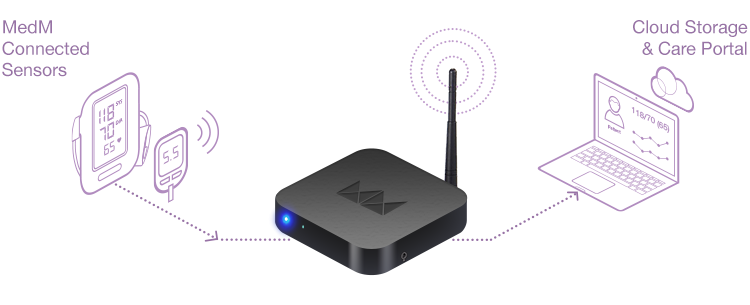 Telehealth hubs are perfect for fully unattended medical data collection & transmission. MedM Hub Middleware turns virtually any affordable Android-based set-top-box, smartphone or tablet into such a zero-configuration Telehealth hub. The software can also be configured to run on iOS, Windows and Linux-based hardware (including smart home gateways and smart TVs).
MedM technology makes it possible to automatically collect readings from 800+ of different medical peripheral sensors via Bluetooth, and to reliably stream this data into cloud, server, caregiver portal, or electronic health record systems via API.
MedM is happy to offer assistance in identifying the optimal devices and sensors for a particular project. Your hub for unattended medical data collection can be setup and running in a matter of weeks. The MedM Hub Middleware subscription license includes customer-specific configuration, maintenance, updates & support. It is available as part of the MedM RPM solution on a per user per month basis.
How to Start Working with MedM Hub?
Based on the intended hub use (stationary or mobile data collection point) decide on the type of host device for our software to be installed on.
Narrow down the list of medical sensors (out of 800+ supported ) to be used in deployment.
Identify the number of patients to be monitored.
Contact MedM.