Personal and Family Health Monitoring Apps
MedM personal health diary and family health monitoring apps are available in 15 languages for most popular smartphones and tablets. The recorded data can be stored directly on the device, synced with Apple Health/Google Fit, and - for registered users - automatically backed up to MedM Health Cloud service.
Our apps are integrated with 800+ of smart Bluetooth-enabled medical and fitness devices and can track 18 types of measurements, including blood pressure, blood sugar, heart rate, body temperature, ECG, body weight, level of blood oxygen (SpO2), fetal doppler, spirometry, activity, sleep, and others.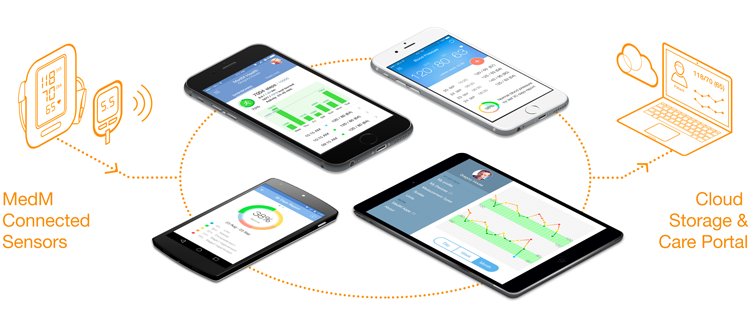 Additionally, devices running MedM Hub Middleware can be used for unattended data collection in the home or in professional care setting.
For more information on using our apps please read the MedM FAQ and User Manual.