Community Wellness Health Monitoring Service for Older Individuals is Supported by MedM Technology
November 08, 2021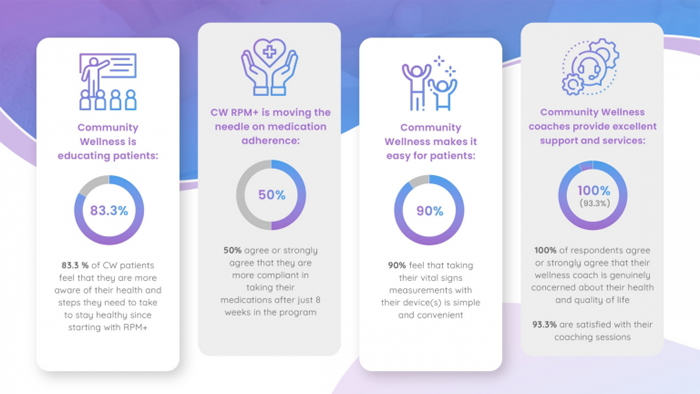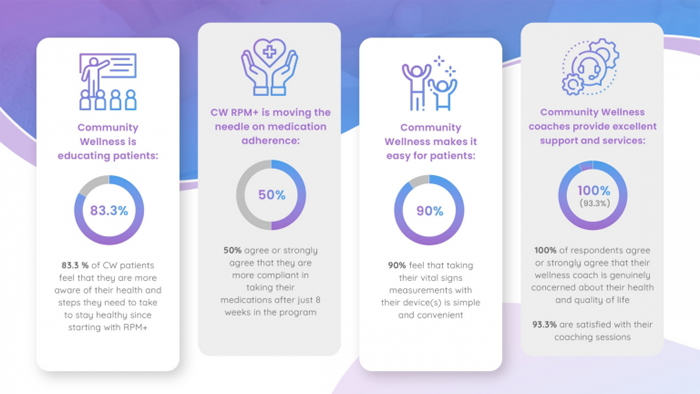 Community Wellness - a digital health company focused on empowering people to achieve better health outcomes - launched RPM Plus service for older adults living with cardiovascular disease, diabetes, and related chronic conditions. The company employs MedM technology to automatically collect readings from FDA-approved medical devices and enable users to track vital signs (such as heart rate, oxygen saturation, temperature, blood pressure, glucose level, peak flow, and weight) with the help of a mobile application.
The RPM+ solution works with health plans, hospitals, physician groups and clinics, connecting doctors, coaches and patients in a secure online environment using video, voice, text, and chat. Community Wellness' HIPAA-compliant server integrates with all major EMRs. The solution is built to reduce readmissions and the amount of time patients spend in bed, as well as to improve medication adherence management, data reliability & sharing, and billing efficiency. The company's patient-centric model of proactive care includes personal healthcare coaching and the support of a wellness community.
Based on eligibility and personalized needs, a member may receive any of the following RPM devices:
Pulse oximeter – monitors oxygen levels in the blood;
Digital thermometer – takes temperature and supports early detection of a potential infection;
Blood pressure monitor – measures blood pressure and identifies hypertension;
Digital scale – measures body weight and detects changes in body mass;
Portable heart monitor (ECG) – shows heart rate variability to track heart health;
Blood glucose meter – provides accurate, plasma-calibrated readings of blood sugar;
Spirometer – measures peak flow (PEF) and forced expiratory volume (EV1).
"RPM+ is personal, connecting with patients on a one-to-one basis," - comments Steve Bowler, Chief Product Officer at Community Wellness, - "optimal care and proactive chronic condition monitoring starts with accurate data collection. This is why improved device usage is critical for us, and Community Wellness is happy to have MedM's software solutions to rely on".
About Community Wellness
Founded in 2019, Community Wellness is a digital health company dedicated to empowering people to achieve better health outcomes through remote health monitoring services. The company's Remote Patient Monitoring service makes continuous health monitoring simple by providing older adults with personalized, state-of-the-art medical devices, a free mobile application and a monthly online check-in with a licensed physician. Community Wellness partners with licensed physicians to offer remote health monitoring services to older adults who need it, when they need it.
About MedM Inc.
Founded in 2012, MedM is a US-based software company, focused on improving interoperability in the healthcare ecosystem by enabling data collection from 550+ of Health IoT devices, sensors and wearables and channeling it into existing caregiver workflows. The award-winning MedM RPM Platform carries seamless device connectivity, making it the most flexible and fast-to-market software solution for RPM providers, medical device vendors, and system integrators.