Leading Virtual Care Platform Provider Life365 Strengthens Partnership with MedM
January 12, 2022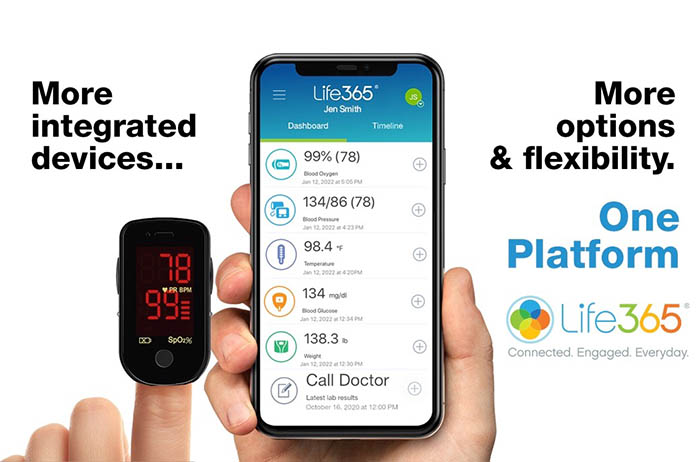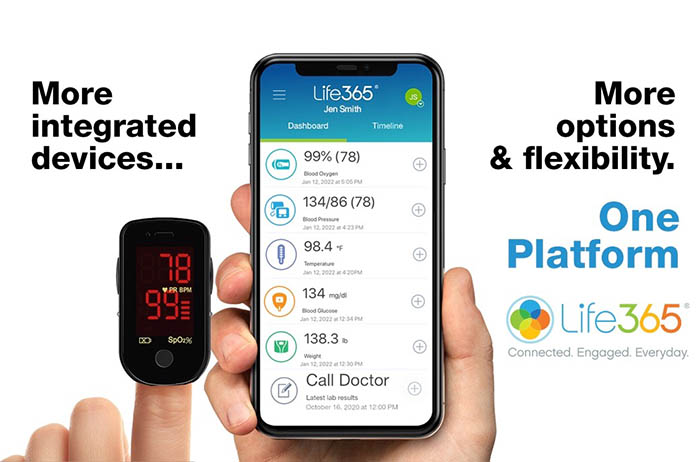 Life365, a leading virtual care platform provider, announced a closer partnership with MedM, a connected health solution provider enabling interoperability between front-end medical devices and the Life365 agnostic device platform.
Life365 continues to build out its Virtual Care, tech-enabled healthcare platform, intended to provide a simpler solution for insurance companies, health systems (Hospital@Home), payors, senior aging services, wellness programs, clinical trials and large self-insured employers. The platform is designed to provide a variety of solutions that are personalized for an individual coming from a commonly integrated platform to provide a "Whole Person Solution" and not delivering one off individual products. Consumers and providers of solutions / services are becoming fatigued by the disparate nature of products and services that come to market in Healthcare and Wellness, causing lack of scalability due to having to handle 100's of individual products, instead of bundling together in a "Personalized" manner to meet an individual's needs.
"The beauty of the Virtual Care Platform is that we can bring together a variety of offerings together (Hardware, Software, Machine Learning/AI, Telehealth, Med Compliance, Wearables, EHR Integration and much more) in an integrated and expeditious manner to provide a wide array of solutions to meet our clients immediate and long-term needs", said Kent Dicks, CEO of Life365. "MedM is one of our key vendors, providing device and front-end interoperability for physical devices. Instead of Life365 having to keep up on the latest devices arriving on the market, MedM specializes in integrating devices in an expeditious manner, and has more than 550 devices integrated into their platform, available for use with the Life365 Virtual Care Platform."
"Many of the current Remote Patient Monitoring (RPM) solutions have only 5 core devices to choose, from one manufacturer. The beauty of Life365 being able to support a variety of connected devices from multiple manufacturers is that clients that need specific quality of data can choose from the manufacturer that meets their specifications, unlike the RPM companies with limited integrations", said Dicks.
"We have been working with Life365 in the US for a number of years and have been given the benefit of this teams' knowledge in the connected health and IoT space to understand what works and what doesn't to engage patients with the right devices, psychological data and economics," - said Denis Khitrov, Co-Founder and CEO of MedM. "We have added a number of new devices in an expeditious manner to the Life365 Virtual Care Platform that are unique to Life365 and provide for scaling to larger populations of patients in a seamless and economical manner. We are thrilled to work with such an experienced team like Life365 on the current version of RPM with connected OEM medical devices (RPM 2.0) and in the near future leveraging the Life365 patent portfolio to help implement intelligent Machine Learning/AI driven wearables and sensors with large population of patients as Intelligent Digital Therapeutics (RPM 3.0). The Life365 Virtual Care Platform and Patents will play a pivot role for scaling to a multi-billion dollar connected health offering and we are proud to be part of this visionary team."
About Life365
The Life365 Virtual Care platform integrates health systems with healthcare solution/service providers and logistics companies to deliver a one-stop, integrated platform for engaging a growing patient population at home – and beyond. The platform enables health professionals to remotely manage patients with a variety of disease states and offers consumer apps for self-managing their health and wellness. Life365 is headed by an experienced, industry recognized team, recently selected as the recipient of the 2021 Silver Edison Award for their work in addressing COVID-19. The team's previous "Connected Health" Company was acquired by Alere (now Abbott). Life365 is the major patent holder of the next generation of Wearables, Sensors and Patches driven by Machine Learning / AI, driving the next generation of Remote Patient Monitoring to scale.
About MedM Inc.
Founded in 2012, MedM™ is a US-based software company, focused on improving interoperability in the healthcare ecosystem by enabling data collection from 550+ of Health IoT devices, sensors and wearables and channeling it into existing caregiver workflows. The award-winning MedM RPM Platform carries seamless device connectivity, making it the most flexible and fast-to-market white-label software solution for RPM providers, medical device vendors, and system integrators