Personal Health Monitoring for Skin Cancer: Nota Mole Tracker Integrated with MedM Platform
May 25, 2023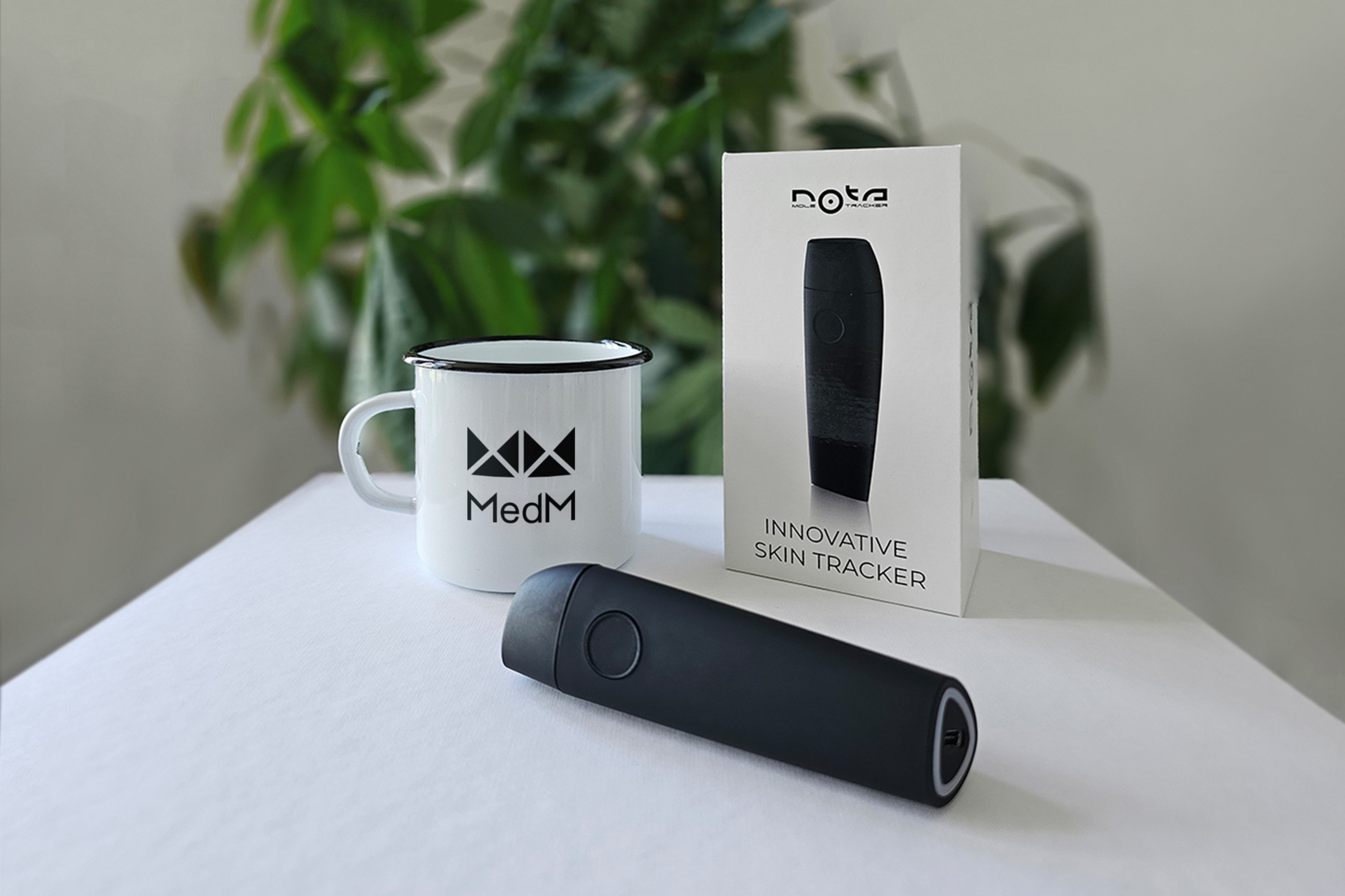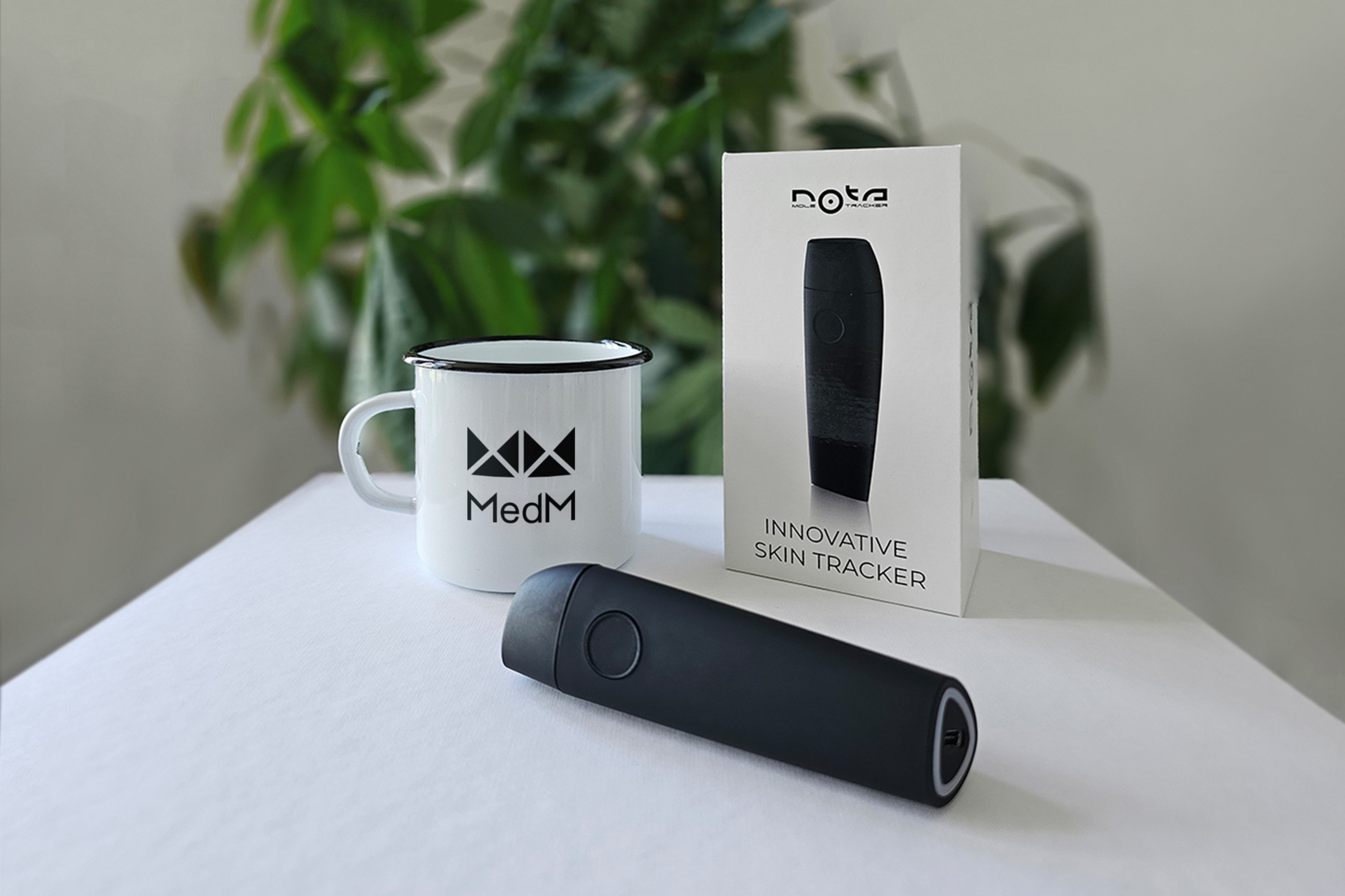 The portable Nota Mole Tracker by Artes Electronics becomes integrated with MedM remote care and personal health data management platform. Nota is a compact non-medical device that uses bioimpedance (electrical resistance of skin cells) paired with an AI, to perform regular home-based screenings of moles. Results of Nota examinations can now be stored as PDF files in MedM Health Records, and safely shared with trusted individuals and professionals.
It takes 20 seconds to run a skin test that can help identify possible cancers at early stages and take the necessary timely steps to eliminate the danger. Nota does not provide a diagnosis but informs users if a visit to a dermatologist should be scheduled as soon as possible. The device is declared safe for use by children, seniors, and pregnant women.
The bioimpedance analysis technology at Nota's core is the same as is often used in fitness trackers and smart weight scales that perform body composition analysis. It is scientifically established that cancer-inflicted and healthy skin responds differently to electrical impulses. By capturing and analyzing such differences, Nota is capable of identifying dangerous growths that are often disguised as moles or skin inflammations: melanoma, basal cell carcinoma (BCC), and squamous cell carcinoma (SCC).
Nota allows users to perform regular checkups of suspicious moles at home, and MedM Platform allows storing results and sharing them with concerned individuals. "We are actively working to expand the capabilities of our platform and excited about this new partnership," - shares Denis Khitrov, MedM CEO. - "With Nota Mole Tracker integration we are venturing farther into a new sphere: users will not only be able to automatically capture readings from hundreds of regular health monitoring devices and sync data with Apple Health/Google Fit, but also to use their MedM health diaries for storing records created by new innovative sensors that rely on server-based AI to interpret test results."
"Developing a science-based tool for in-home monitoring of potentially dangerous moles has been a top priority for Artes Electronics," - comments Karina Kibo, company COO, - "but we consider providing users with a means of social and emotional support just as important. For this reason, Artes Electronics has launched the Artes Union App that enables people, recently diagnosed with skin cancer, to exchange information with others going through a similar experience. And for the same reason we consider joining the MedM Health Ecosystem so important – by providing users with an additional means of managing their health data, we contribute to their empowerment and success at staying healthy."
More info about the MedM Health mobile app: https://www.medm.com/apps/health.html
About MedM (https://www.medm.com)
Founded in 2012, MedM™ is a US-based software company, focused on improving interoperability in the healthcare ecosystem by enabling data collection from 700+ of Health IoT devices, sensors and wearables and channeling it into existing caregiver workflows. The award-winning MedM RPM Platform carries seamless device connectivity, making it the most flexible and fast-to-market white-label software solution for RPM & care providers, medical device vendors, and system integrators.
About Artes Electronics (https://notamole.com/)
Artes Electronics was founded in 2019 to develop devices for simple and convenient health monitoring. We are passionate about the idea of helping to detect cancer at an early stage and, thereby, reduce the overall mortality of people from this terrible disease. Today we have already released our first device to the market - the personal tracker of moles NOTA, which helps to monitor moles and track dangerous changes in them. Our goal is to help everyone to monitor their health and enjoy life by creating a simple and convenient product. We value the experience of our users and are constantly implementing innovative features to make the mole tracking application even more convenient and smooth.